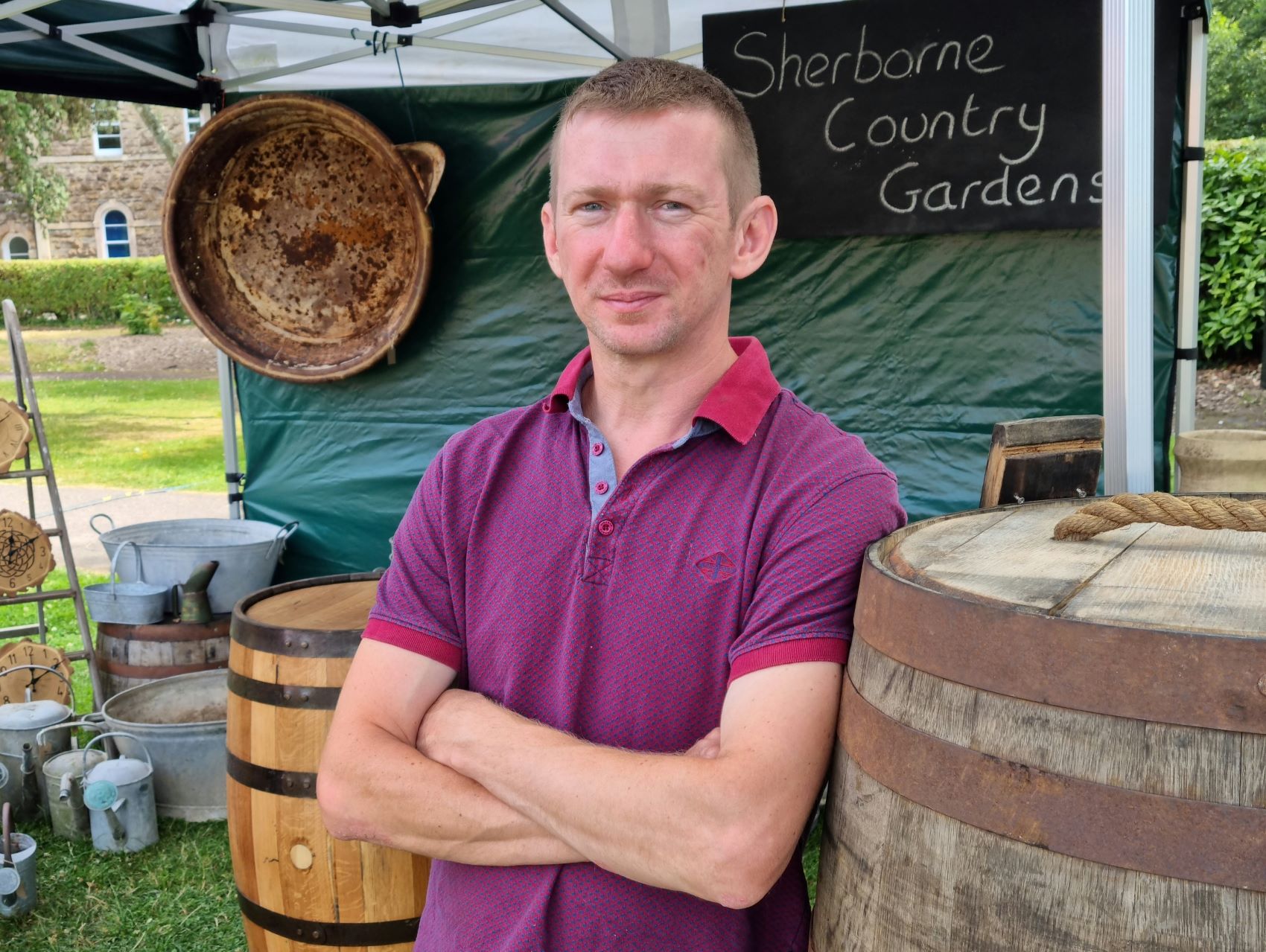 Our theme is English Country Gardens and we specialise in quality, locally sourced hand-crafted garden pieces, including Niwaki Japanese secateurs and hand tools, local peat-free compost, locally crafted steel and oak obelisks, reclaimed whisky barrels, planters, vintage galvanised pieces and milk churns.
A long-term customer and friend who has a beautiful country cottage garden asked if I could get hold of some whisky barrel planters. I was also keen for some planters so we went in on a batch together and after repotting my acers and roses I sold the few that were left over, which went quicker than expected. Once supplying half barrels, I was asked for a whole barrel, and then a water butt and so on, and so Sherborne Country Gardens was born. I love the outdoors and my garden and am a great believer in reusing existing resources. I have found this to be much more enjoyable than my previous main line of work and so made the decision to run with Sherborne Country Gardens and see where it may lead. I still use my customers garden as a bench mark, in that if I can picture it there, I would be interested in stocking it.
If you think of the concept of farm shop meets garden centre, you're along our lines. Our goal is to provide exceptional, reclaimed, recycled, sustainable and natural items wherever possible, that instantaneously become part of the garden. We aim for zero waste and minimal plastic.
Based in Sherborne, Dorset surrounded by the beautiful rolling countryside of Dorset and Somerset, and a stones throw from Wiltshire and Devon. We're ideally positioned on the A30 and only 10 minutes from the A303. Somerset is only a few miles away with Yeovil just a 10 minute drive.
Our ethos is local, quality, eco-friendly, hand-crafted and all things English Country Garden.
You can find as at The Sherborne Market, which is usually on the third Sunday of each month. We will also be at many other shows and events in 2023 including Gillingham and Shaftesbury Spring Countryside Show on 22nd-23rd April and the Sherborne Castle Country Fair on 29th May 2023. Please keep an eye out here on our social media for other dates. 
Our Business
What We Do
We use natural and sustainable products wherever we can, including Osmo wood finishing oils, which is not only one of the best brands available but are proudly vegan and responsibly sourced. We avoid plastic as best we can and aim for zero waste, even our whisky barrel shavings are collected and are sold for BBQ/smokers and make for fantastic cooking.
We offer Free delivery within 5 miles of Sherborne, Dorset. We charge the following small amounts to cover costs for deliveries up to 50 miles (as per sat nav, not as the crow flies) - £5 for delivery up to 10 miles, £10 up to 20 miles, £20 up to 30 miles, £30 up to 40 miles and £40 up to 50 miles.
Viewings and collections are welcome by appointment please
featured products
Our Products
Half Oak Whisky Barrel – perfect as a planter, water feature or wildlife pond

Approximately 44cm high and 63cm at their widest.

£

45.00 Add to cart

Three-Quarter Oak Whisky Barrel – perfect as a planter, water feature or deeper wildlife pond

Approximately 664cm high and 63cm at their widest.

£

69.00 Add to cart

Our hand-crafted signature oak barrel stave obelisk 1.7m

Finished with Osmo UV Protective oil which is pet, plant and child safe

£

225.00 Add to cart

Fantastic all round – light gardening

Amazing introduction to Japanese secateurs

£

39.00 Add to cart

The All-Mighty Japanese Hori Hori

Fantastic weeding trowel, bulb planter and versatile gardening tool

£

32.00 Add to cart

Niwaki Secateurs must have accessary

Tough and natural 3.5mm leather

£

24.00 Add to cart